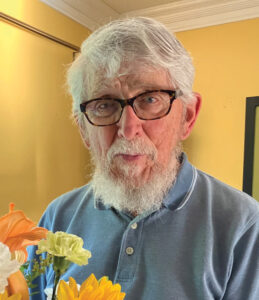 Marvin J. Miller, 91, died Oct. 7, 2023, in Spencer, Ind. He was born Oct. 13, 1931, to Jason O. and Leona Cockley Miller and grew up in Elkhart.
At age 19, he taught eight grades of school in Mountain Home, Ark., for two years, followed by serving on the music faculty at Hesston College, directing choirs there, at Goshen College and at the Goshen Biblical Seminary. He and his wife, Mary Alene Cender, worked 27 years under Mennonite Mission Network, relating to Japanese churches as tentmaker English teachers in universities in Hokkaido, Japan.  
He sang in various community choirs, in Bloomington Chamber Choir and in Voces Noves. In Seattle, he served as a volunteer for 10 years in a drop-in center for people off the street. He was a member of the Seattle Bach Choir. A lifetime devotee of J.S. Bach, he enjoyed chopping wood, maintaining a 40-acre forest, reading and gardening. He was a member of the Mennonite Fellowship of Bloomington.  
He is survived by his wife, Mary Alene; daughter Amya Miller (David Eby); son Jon (Jin Zhu Miller); three grandchildren; and a brother, David (Coleen). He was preceded in death by two sisters, Mary Alice and Velda Glick; and an infant son, Ken Hiram. A service of music celebrating his life will be held Nov. 18 at Bloomington First United Methodist Church.