There can be no peace among nations without peace among religions. — Hans Küng
We might paraphrase Küng's words to ask, "How can we spread a gospel of peace without demonstrating peace among ourselves?"
While nice folks like us might not be openly unpeaceful, we are all too prone to give up on each other and go our separate ways. In that sense we (peacefully?) "ex-communicate" one another — usually not by actually expelling congregations with whom we disagree but by withdrawing from them and no longer "communicating" in fellowship.
I once asked a member of a congregation that left Virginia Conference of Mennonite Church USA if those of us who stayed would still be welcome at their communion services.
"Of course!" he assured me. "We will always welcome you to the Lord's Table."
"What?" I asked. "You're not OK with working with us in conference assemblies, but you would welcome us to be one with you in the most sacred part of your church life?"
To me it felt like a divorcing couple announcing they could no longer tolerate being in the same household but would be OK with occasionally spending an intimate night together.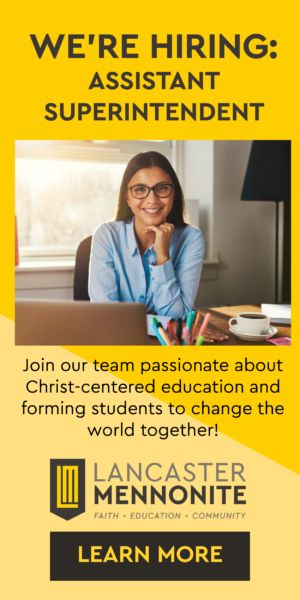 Here is the kind of Christ-based, covenant-bound unity I pray for:
— That we maintain God-given unity of the Spirit while continually striving — forever, if necessary — for a greater unity of the faith.
— That we commit to no longer "excommunicate" (break fellowship with) whole groups of congregations with whom we differ but seek to add to our circle of congregations.
— That where past separations have occurred, that we keep the door open to becoming reunited and reconciled.
— That as congregations, conferences and denominations we see ourselves as bound together less by our constitutions and bylaws, as in a Gesellschaft (an organization operating by Robert's Rules of Order), and more as sisters and brothers in God's beloved Gemeinschaft (a community seeking consensus in the spirit of Acts 15).
— That we be willing to regularly review our structures, constitutions and Confessions — perhaps every Jubilee (50th) year — and wait prayerfully for Pentecost-style rebirths, earnestly seeking new wine and welcoming new wineskins.
Further, I pray that we would not allow the issues we treat as "elephants in the room" — a loss of trust in church structures, or disagreements about how to include LGBTQ members — to distract us from the threats we may overlook as mere "mice in the room," such as:
— The hold of Mammon — money and material wealth — that threatens to choke the spiritual life out of us. Our families, congregations and church institutions are claiming the right to ever more privilege, status, state-of-the-art accommodations and lifestyles that create widening gaps between us and a world in need.
— The grip of media on our lives: the barrage of pornography, propaganda, seductive advertising and other distractions from a life of following Jesus.
— An astonishing lack of concern — by heterosexuals and non-heterosexuals alike — about a sexual permissiveness that elevates eros over agape, short-term pleasure over covenant commitment and promiscuity over fidelity.
— A plague of violence, fed by divisive rhetoric that divides our communities and congregations, that amplifies our fears and animosity toward "enemies" and feeds the flames of military madness.
— Overconsumption of natural resources and fossil fuels, contributing to climate change and threatening the very survival of our children and grandchildren, who will deal with increased famines, wildfires, floods and extreme weather.
These are the real elephants in the room. Meanwhile, let's all pray that the unity of the body of Christ becomes a reality here on earth as it will ultimately be in heaven.
Harvey Yoder is a licensed counselor and pastor of Family of Hope Mennonite Church in Harrisonburg, Va. He was a pastor at Zion Mennonite Church in Broadway, Va., for over 20 years and taught Bible and social studies at Eastern Mennonite High School.