An Amish homestead can be identified at a glance by buggies in the driveway or distinctive garments on a clothesline. Solar panels have joined the list of visual cues, bringing a host of benefits and concerns to people who traditionally lived without electricity.
In the past couple of decades, many Amish have embraced solar power, which can be permitted because standalone systems are "off-grid." Rules against worldly vices do not ban electricity or prohibit convenience but are intended to avoid connection to and reliance on the outside world.
Wellspring Components, an Old ­Order Amish-owned solar installer near Shipshewana, Ind., represents the movement to capitalize on sunshine. Founded in the 1950s as a buggy repair shop, the company still makes suspension springs. It branched out into solar about 27 years ago, installing solitary solar panels to power well pumps or refrigerators. As solar power grew more efficient and less expensive, generators that burn diesel or natural gas became less attractive.
"The panels are getting more efficient and less expensive, no question," said Ryan Lengacher, Wellspring's Indiana team sales manager. "The same system we sold 25 years ago — one panel and a battery — was over $1,000. Now the same thing is $150. Four to six years ago the price for solar panels was triple what it is now."
Restrictions vary in northern Indiana. Old Order groups stretching southeast to Fort Wayne and Allen County have made the technology common, as even some businesses that use large generators have switched to solar. In the Berne area, south of Fort Wayne, almost no groups use solar because of differences in bishops and districts.
Lengacher, who mainly works with non-Amish customers, said restrictions result in lower consumption needs for Amish households, making the switch to solar more financially attractive.

"The English [non-Amish] household average is 1,000 kilowatt hours a month. An Amish household is 50. That's a huge difference," he said, noting LED lighting and computers are OK for businesses but not the home. "The Amish here are still using natural gas or propane for lighting. They're operating their well pump, refrigerator, freezer on solar. That's it. They don't have air conditioning around here. You're still not allowed to do that."
Holmes County, Ohio, is home to greater Amish diversity, creating a patchwork of allowable uses for solar. James Mast founded ARK Battery in Sugarcreek, Ohio, to respond to the need for improvements in the lithium batteries needed to regulate power fluctuations. ARK works to tailor systems to each group's needs.
"In Holmes County we have like 15 different Amish flavors, and in the New Order group I come from there are 15 to 20 churches and definitely differences from church to church," said Mast, who recently joined a Beachy Amish congregation. "But most of the New Order Amish in Holmes County would be OK with lighting in their houses."
When he began installing solar systems eight years ago, it was common to install a light switch in the closet, hiding the mark of electricity in the home. A popular use today is to charge e-bikes that incorporate an electric motor.
"Restrictions are more on the loads than the solar systems," he said. "You need to stick with direct-current lighting, no more than 12 volts, or no electric lights on the main floor," he said. "There are churches with restrictions on air conditioners, microwaves, dishwashers — you name the appliance, somewhere there's a rule on it.
"The rules are more on the appliances and not on the solar systems. It's really hard to draw a clear line on the system."
Mast, who used trial and error to develop ARK's battery-cell load-balancing technology and now has them manufactured in China, said the Amish accepted solar technology because it grew gradually over decades.
"If you would have gone from nothing to what we have today overnight, like a 10-kilowatt system, it never would have been allowed," he said. "Never is a big word, but you get the point. It grew gradually."
Solar came to the Amish in Kansas more gradually. King Solar, which serves the entire state, is based near Yoder, where owner Mark Horst has many Amish neighbors.
"We really didn't see a lot of adoption until 2015 or maybe even later," he said, estimating about half of Amish households in the area use solar. "In the last four years it's really taken off. Some of that is due to the local bishop and their interpretation of what is appropriate and what makes sense.
"One of the cool things I've learned since living in the community for the last decade is that we see what is allowed and what's not allowed. Their goal is to ask, 'How best can I connect with God and how can I follow Jesus in my local context?' "
The most common applications power electric fences or water pumps. Many of Horst's neighbors have lights that run off a 12-volt system comparable to a car battery. A local auto parts shop used to do a fair amount of business charging those batteries overnight, but things have changed.
"Yoder Hardware is now selling lithium 12-volt battery systems that even run ice cream makers," he said. "A lot of my Amish neighbors will run lights, sewing machines, a washing machine spinner, but not a washing machine itself. I've heard of some CPAP machines for medical purposes running on solar.
"I know a guy who put a 12-volt lithium battery wheelchair lift on his buggy. That was probably the most fun solar-powered project I've worked on with the Amish."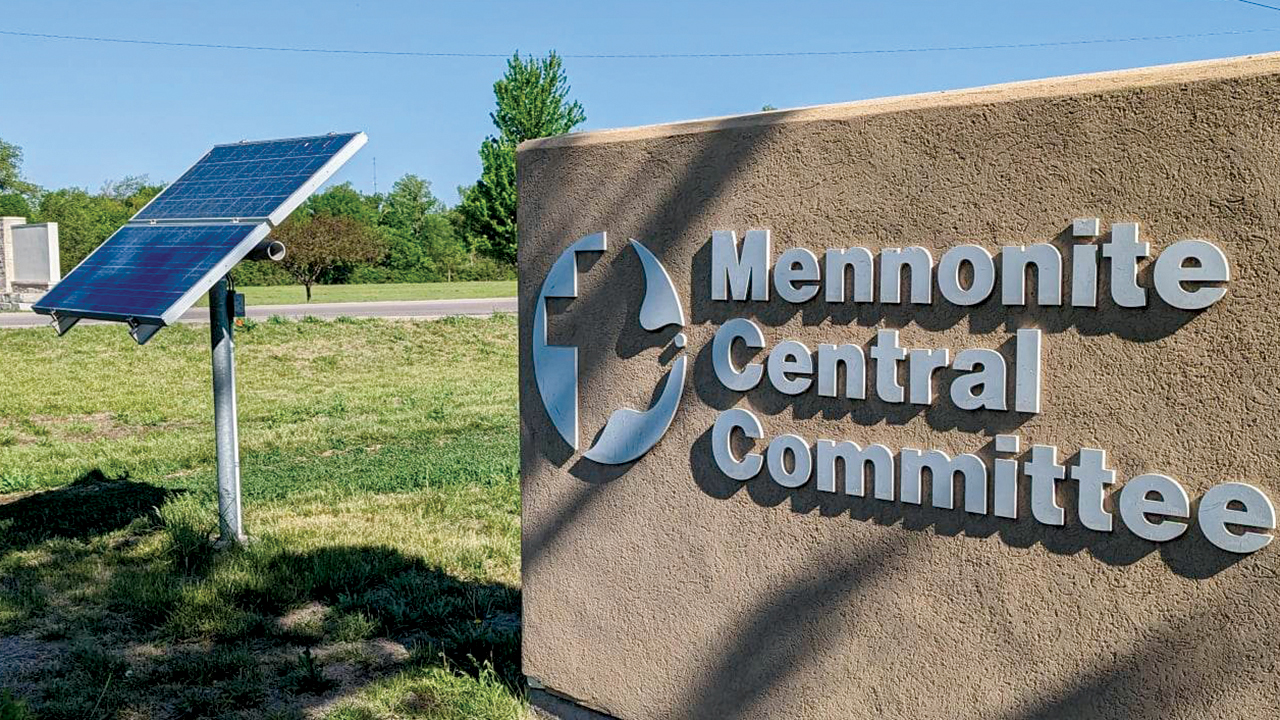 Horst, who attends a South Central Mennonite Conference congregation, sees various motivations for adopting solar power as he serves customers across the Anabaptist spectrum. Several Mennonite Church USA congregations have consulted with King Solar recently because they want to be good stewards of the environment. For Beachy Amish and Church of God in Christ (Holdeman) Mennonite households, which are already connected to the grid, Horst finds financial considerations are important.
"A lot of my religiously conservative customers are business owners who apply for rural development grant funding through the USDA for energy projects," Horst said. "Basically, any small business in our area that already has grid power can qualify for the USDA funding, which includes my English neighbors in addition to Beachy, Holdeman and other Anabaptist business owners."
Among Wellspring's customer base in Indiana, there is yet another priority.
"The English customers are buying it for the energy independence, not environmental concerns," Lengacher said. "They want to be sure that if the grid goes down for a year or two, they will be prepared, but also have a system that saves some money.
"Self-sustainability is paramount to some of my customers. They sometimes don't even interconnect their systems to the grid because they don't want the government oversight."
In Ohio, Mast said, solar energy is fundamentally about the power to be self-sufficient.
"They don't care about going green and probably don't care much about independence of government oversight," he said. "I find it kind of funny that when you get into the non-Anabaptist world, people from the far left and far right both want the same thing: They want a solar system.
"People want to be self-sufficient. They want a greenhouse to raise their own food. They want their own power. It's kind of a prepper mentality. But for all the 'go-green' you see in the news, I'm constantly surprised with how little I see of that."
Amish adoption of solar is expected to continue as efficiency climbs and prices fall. Increased diesel costs have prompted industrial interests, such as chicken barns, to begin transitioning how they get a bulk of their power.
"For a commercial scale — say a chicken house with feed lines or power tools in a shop — 15 years ago, technology wasn't there to power that," Mast said. "It's changing faster than ever now."
He's heard of a couple of licensed Amish electricians in Ohio and thinks it will become common to see licensed Amish electricians in Holmes County in the future.
Ironically, the use of a technology that the Amish embraced due to traditional limits is now leading to questions about whether or how to limit the new technology.
"We're finding that there are very few limits, if you can afford it," said Norman Yoder, one of the Amish owners at Wellspring. "This is also why many congregations will limit the amount of solar for the home. Believe me, we have a serious struggle in these days of a liberal society and escalating technology where there is no concern of limits. We try to use technology and not let technology use us."