John Hamilton Parker, 82, of Lansdale, Pa., died Aug. 29, 2022. He was born Oct. 7, 1939, to Laura H. and Leland C. Parker of Bath, N.Y.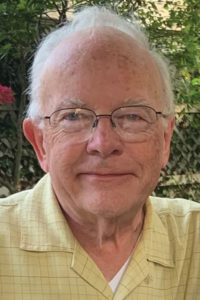 He earned a bachelor's degree and a doctorate from the University of Rochester and completed postdoctoral studies at Johns Hopkins Medical School in the 1960s. He married Marcia Witters in 1962.
As a scientist in pharmaceutical companies and a college professor, he and his family lived in multiple U.S. cities during the next 50 years: Rochester, Albany and Buffalo, N.Y., Baltimore, Md., Elkhart, Ind., Lansdale, Pa., Raleigh. N.C., and San Ramon, Calif. He was called to develop new vaccines and other pharmaceutical products and to serve as a link with the Food and Drug Administration to assure their safety and effectiveness and to guarantee the cleanliness of their production facilities.
Although he had studied about Mennonites during his high school years at Mount Hermon School, founded by Dwight L. Moody in Massachusetts, he and Marcia first met live Mennonites in their six years of living in Elkhart in the 1970s. This occurred through friendships with their children's educators and several teaching colleagues of Marcia in Elkhart. They converted from Episcopalians to Mennonites through nurturing experiences, book studies and rebaptism at Prairie Street Mennonite Church in Elkhart. Thereafter, they joined five other congregations as they pursued his career calls in other cities. Mennonite congregations where they became members included Raleigh Mennonite Church, Rochester Area Mennonite Fellowship, Perkasie Mennonite Church, Plains Mennonite Church and First Mennonite Church of San Francisco. Along the way, he served as adult Sunday school teacher and chair of the finance committee and church council. In recent years he found God's calming presence in natural settings where meditation, photography and exploring nature trails brought peace from his international business travel and other life stresses.
Survivors include his wife of 50 years, Marcia Witters Parker; a daughter Lisa (Vincent) LaSorsa; a son, David (Maureen) Parker; and seven grandchildren.
He was preceded in death by a brother, Robert Warren Parker; and a daughter, Lindsay (Michael) Neiswender

Memorial services were held at Plains Mennonite Church, Hatfield, Pa.