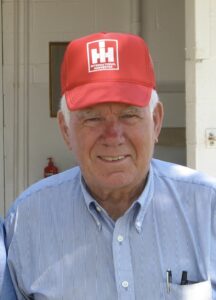 Melvin A. Dirksen died Nov. 2, 2012. He was born April 7, 1931, in McPherson, Kan.
He moved to Colorado in 1952 during the Korean War. Raised as a Mennonite, he was a conscientious objector and member of a group of young men brought to Denver under the alternative duty 1-W program. After his service, he was a milk route salesman/driver for Stearns Dairy and then held other sales positions ranging from specialized cranes to school buses.
At age 52 he became an entrepreneur and opened Pioneer Sales and Service, selling Swedish-made Pionjar gas- powered jackhammers. It was a perfect fit for a man who enjoyed developing friendships as much as tinkering and fixing things. Having grown up on the family farm, he never lost his roots and was passionate about restoring old tractors, in particular bright red International Harvesters. A joy for him was sharing these machines with young and old admirers at summertime parades. Humble, with a ready smile and wry, clever sense of humor, he approached life with the motto, "If it isn't fun, don't do it".
An avid golfer, he and his wife of 59 years, Arzella, continued to play as his multiple myeloma, diagnosed in 2008, advanced. Beyond collections and mechanical skills, the most gratifying component of his life was his family, immediate and extended, near and far.
Mel was survived by his wife, Arzella, until her death in October 2022; a son, Jim; daughters Jan (Kirk Williams) and Suzanne (Jeff Opp); and six grandchildren. He is also survived by a sister, Velma; and a sister-in-law, Sherland Dirksen.
A celebration of his life was held in 2012 at First Mennonite Church of Denver. A memorial service for him and Arzella was held Aug. 4 at Alexanderwohl Mennonite Church, Goessel, Kan., followed by inurnment of their ashes in the cemetery there.