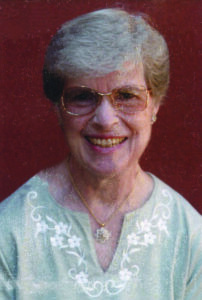 Ruth Eleanor Hartzler Martin, 88, died June 16, 2023, at Landis Homes, Lititz, Pa.  She was born Oct. 14, 1934, in Wakarusa Ind., to Roy and Katie (Lichty) Hartzler. 
She graduated from Goshen College with a BSN in 1956.  She spent three years in Pakis/Taju, Java, Indonesia, with Mennonite Central Committee from 1959 to 1962. She worked in nursing — ob-gyn, psychiatry and nursing administration for over 50 years.
She and Jay W. Martin married in August 1968 in California. They met while both were working at Kings View Hospital, Reedley, Calif.  She became director of in-service education in 1968 and director of nursing in 1969 at Centre Community Hospital, Bellefonte, Pa., now Mount Nittany Medical Center, State College.  She completed her MSN in nursing administration at Penn State University in 1979.  In 1988 she became director of nursing at Philhaven Hospital, Lebanon, Pa. She also worked at Inglis House in Philadelphia and part-time at Landis Homes prior to her retirement.
She was involved in the National Organization of Nurse Executives and the Pennsylvania Chapter. She was an active member of the Mennonite Nurses Association and Mennonite Health Association, serving on the board and as president of each. She was the first female chair of University Mennonite Church in State College. She served on the pastoral team at Community Mennonite Church of Lancaster. She served 12 years on the Board of Mennonite Mutual Aid, now Everence. 
A caring person, she worked to understand people who felt they were different and were marginalized by society. She was the first straight person to serve on the board of the Brethren/Mennonite Council for LGBTQ+ Interests. Friendly and outgoing, she had a gift for making people comfortable. She and Jay enjoyed traveling together, meeting new people, cooking together and entertaining friends in their home.
She is survived by her husband; two sisters, Freda (Paul) Friesen of California and Isabelle (John) Blough of Kansas; two brothers, David (Mary) Hartzler of Tennessee and Dwight (Margaret) Hartzler of Florida. She was predeceased by a sister, Mary "Marty" Hartzler, and a brother, Phil Hartzler.