Although we might not be aware of it, vision-stories shape our lives.
These stories express deep truths. They help people make sense of life. They say, "We believe life works this way, and our story makes the big picture clear."
We live in a world of competing vision-stories. And we don't just live in a world of competing stories, we live by those stories. They define us and guide our behavior.
The people of biblical times also lived in a world of competing stories. The writers of Scripture knew their stories competed with others, even within their own tribe. They took the material of collective memory and wise people to write stories to explain the nature of God and human experience.
Scripture conveys and clarifies life-giving truth through vision-stories. "Where there is no vision, the people perish," Proverbs 29:18 says in the King James Version.
One of the Bible's earliest vision-defining stories is the flood in Genesis 6-9. One purpose of the story surely is to impress people with the dire consequences of doing evil. But another purpose may be even more profound — and more subtle.
The flood story ends with God promising never again to destroy evildoers with a flood. Is this not a suggestion that God had decided violence was not the way to solve the problem of evil? The flood story begins with killing and ends with mercy.
After noticing the movement toward mercy in this foundational story, we may see the rest of the Bible as a search for a better way to deal with violence than killing bad people.
Is Nineveh doomed?
As God's people searched, they learned new stories of mercy and weighed them against the stories of violence. The prophets Nahum and Jonah exemplify this contrast between competing visions.
Nahum rails against Nineveh: "See, I am against you, says the Lord of hosts, and I will burn your chariots in smoke. . . . 'Nineveh is devastated, who will bemoan her?' " (Nahum 2:13, 3:7).
The story of Jonah begins like Nahum but takes an unexpected turn. God commands Jonah to proclaim Nineveh's doom. Fearing that the city will repent and escape disaster (Jonah 4:2), Jonah responds: "I'd rather not. You know those Ninevites. You expect me to give them a chance? No way."
God replies, "Into the drink, disobedient child. Have a swim inside a fish." Jonah spends three nasty days in a fish belly.
The ordeal prompts a change of mind. Cast ashore, Jonah preaches God's wrath.
To his disappointment, the Ninevites pay heed and repent. But Jonah sulks, angry that God has dealt with his enemies kindly.
God says, "Why shouldn't I love Nineveh? They're my people, too."
Here are two starkly different ways to deal with enemies:
— Nahum prophesies Nineveh's inevitable destruction. Those who have lived by the "flashing sword" (Nahum 3:3) will die by it.
— Jonah also foretells Nineveh's destruction, but it is not inevitable: God spares the city, forcing Jonah to contemplate God's compassion.
What is the central message: murder or mercy?
Who is my neighbor?
Into this world of competing ­vision-stories came a man named Jesus. He mixed with common people and talked about how to live. He made a profound impact on them.
Why did people find Jesus so compelling?
He, too, told a vision-story — many stories, in fact. His stories, or parables, probed the human psyche and God's mysterious ways.
He told one of these stories to a self-assured lawyer (Luke 10). The lawyer asked Jesus, "What is the way to a life of complete fulfillment?" and then, "Who is my neighbor?"
Jesus answered with a story: A man lay robbed and wounded by the roadside. Two religious leaders did not stop to help. The traveler who finally did reach out was a despised Samaritan.
Jesus concluded: "Which of these three was a neighbor to the man who fell into the hands of robbers?"
The lawyer replied, "The one who showed him mercy."
Jesus said: "Go and do likewise."
The word "mercy" came from the lips of the lawyer, not Jesus. The man with the question had the answer. All he needed was the truth of a profound story to help him.
The parable affirms a truth widely known but too little practiced — the priority of mercy. Anyone, even Samaritans and Muslims, can serve God and others through acts of mercy.
Jesus rebuked the scribes and Pharisees for objecting to God's mercy on all people and gave them the "sign of Jonah" to drive home the point (Matthew 12:38-41).
This is a transforming response to violence and evil — a distinct alternative to God's big flood and Jonah's whining about Israel's enemies.
Conversion of 'Brother Saul'
In the Bible's vision-story of mercy, the story of Saul's conversion (Acts 9) is essential. Here is a man with blood on his hands, and not just any blood. Saul's violence focused on the enemies of God's community, as he saw it. He was dedicated to defending his tribe and nation.
Saul's work was the work of national security. His solution to the problem of enemies was clear: kill them. Murder was his vision-story, his truth.
Into Saul's world came Jesus, with a call to love enemies, overcome evil with good and practice mercy. Saul was no easy mark for this message. He was a man of power and success. He knew what worked.
On his way to Damascus to arrest followers of Jesus — the latest threat to Israel's pact with Rome and its violent ways — Saul heard a voice from heaven: "Why are you persecuting me?"
Saul replied: "Who are you, sir?"
"I am Jesus, the one you are persecuting. Get up, go into the city, and you will be told what you must do."
Blinded, Saul spent three hard days in Damascus wrestling with his situation. (Remember Jonah?)
Meanwhile, in Damascus, a follower of Jesus named Ananias was doing his own wrestling. He heard a voice: "Go and talk to my servant Saul." Ananias knew Saul by reputation, and he protested. (Remember Jonah?)
"My God, I'd rather not," he said. "I know this guy and what he does."
"Go, because I need this man Saul," God replied.
Ananias went into the room where Saul was, laid his hands on him and said, "Brother Saul" (9:17).
That's right: "Brother Saul." That's what Saul heard from the lips of a man he had come to arrest and kill.
And immediately something like scales fell from his eyes.
Met by astonishing love from his enemy, Saul moved from blindness to sight, from death to life, from Saul to Paul.
He began a new life — with the same vocation as before: to protect the security of God's people — but now "not with the spirit of fear; but of power, and of love, and of a sound mind" (2 Timothy 1:7, KJV). He would strive to "overcome evil with good" (Romans 12:21), even the monstrous evil of the Roman empire (Romans 13).
Saul's conversion — from fear to love, from violence to peace — happened not on the road to Damascus but in the house where Ananias greeted him as "brother." The story he lived by was no longer violence but nonviolence.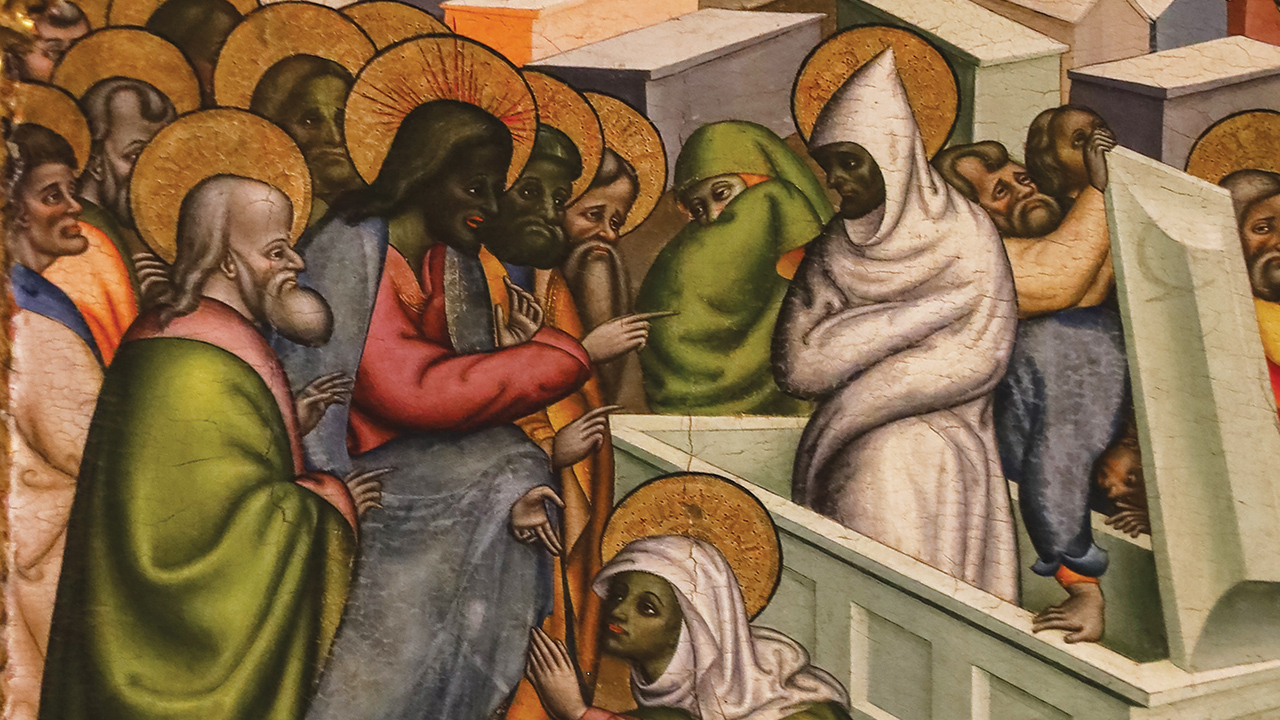 Raising the dead
The vision of mercy rooted in Jesus — and embraced ever so haltingly by his followers over the centuries — continues to bear witness to the miracle of human transformation.
Jesus says the choice to live by a new vision — to be born again (John 3:3) — is necessary. Necessary even, perhaps especially, for one as successful as Nicodemus, who knew he was not fully alive and, in that sense, was really dead.
In yet one more faith-defining vision-story — the resurrection of Lazarus (John 11) — the Gospel writer testifies that it is possible to rise from death to life.
The name Lazarus means "without help," signaling the grand symbolism of this miracle. At the center of John's story of Jesus stands one man, Lazarus, who rises from death to life.
Is the deeper message here that Jesus raises to life all who choose to live by the vision-story of mercy?
Remaining to be seen is whether the merciful way of responding to the world's violence will grip our imaginations.
We can live by the violent stories of the big flood, Nineveh's flashing swords and Saul's murderous intent.
Or we can choose mercy — the life-giving vision-story that chastened Jonah and converted Saul, that God affirmed after the flood and that Jesus taught: the way of costly, creative nonviolent action.
John Stoner is a nonviolent earthkeeper in Akron, Pa. A member of Akron Mennonite Church, he has worked as a pastor, teacher, Mennonite Central Committee U.S. peace administrator, writer, gardener, husband and parent.