NAPPANEE, Ind. — Chester Weaver believes in fundamentals of Christianity such as the virgin birth, Christ's bodily resurrection and the creation story. Fundamentalism, however, is another matter — and one at odds with Anabaptism, according to him.
"Fundamentalism has taught conservative Mennonites to be spiritual abusers and to feel good about it," Weaver, a Beachy Amish minister, told an assembly of theologically and culturally conservative Amish, Mennonites and Hutterites meeting near Nappanee March 12-14.
Weaver was one of the featured presenters at the 10th annual Anabaptist Identity Conference, held to promote the faith's distinctives and address the forces that threaten them. Brothers Matthias and Nathan Overholt, Beachy Amish from Sarasota, Fla., and widely traveled speakers, have organized all the conferences.
"We don't know who we are, where we came from and, subsequently, where we're going," Nathan said in his moderator's remarks.
This year's conference repeatedly tackled what speakers described as the negative influences of right-wing Christianity. A century ago, Weaver said, the broader fundamentalist movement gave conservative Anabaptists a way to counter liberal trends that challenged basic, long-held understandings of God, Christ and Scripture. But as Amish and Mennonites embraced fundamentalism's articulation of beliefs they held as their own, they also adopted its militant, "I'm right, you're wrong, and I have to defend myself" stance, Weaver said.
Incompatible with peace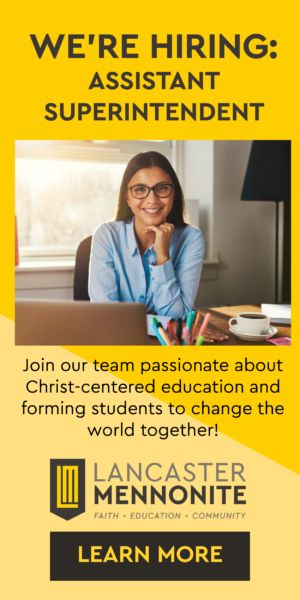 Fundamentalism has made it acceptable to consider those who believe differently as enemies and to denigrate them, he said. But that's incompatible with peace, community, mutuality and Gelassenheit, the historic Anabaptist precept of self-surrender.
"We defend a book at the expense of a person. We defend words at the expense of a message," said Weaver, who is from Nappanee.
Another speaker, Ernest Strubhar from Perkins, Okla., also decried fundamentalism's effects on the church. He compared Anabaptism to a tricycle, with the "way," or discipleship, as the front wheel and "truth" and "life" as the rear wheels. All three are essential, he said, but it's the "way" that propels the faith.
"The way has to do with our walk, our conduct, our lifestyle, how we live . . . to become [Christ's] disciples in training," said Strubhar, an elder at Cimmaron Christian Fellowship, which isn't affiliated with any group.
But he said fundamentalism emphasizes "truth" — right beliefs at the expense of trying to lead a Christlike life.
"It's amazing how often I see Mennonites putting truth as the drive wheel of Christianity," Strubhar lamented.
More than acceptance
Evangelicalism and mainstream Protestantism also received criticism. David Bercot, a former Episcopal priest and a popular speaker and writer among conservative Mennonites and Amish, also stressed discipleship. For Anabaptists, accepting Jesus Christ as Lord and Savior "means I'm going to surrender myself to him," he said, while Protestants believe acceptance is enough.
That includes Mennonite Church USA and the Mennonite Brethren, said Bercot, who attends Shippensburg (Pa.) Christian Fellowship, an unaffiliated conservative Mennonite congregation. Weaver criticized mainstream Mennonites for creating church institutions, which produce "authoritarian leadership," the opposite of Gelassenheit.
There was no registration for the event, but each session drew capacity crowds of nearly 400 people from 19 states, two Canadian provinces and Australia. In addition, as many as 145 people from 31 states listened via telephone.
Among those in attendance was Jamilla Kurtz, part of Grand Lake Mennonite Church, an unaffiliated congregation in Fairland, Okla. While dressed in a simple dress and prayer covering like almost all the other women at the conference, she still stood out. She's black.
Kurtz was born in Jamaica and moved to Downingtown, Pa., with her family when she was 3. They were introduced to Mennonitism when a co-worker invited her father to an Atlantic Coast Conference congregation. That led the family to eventually join the Eastern Pennsylvania Mennonite Church, a conservative group that left Lancaster Conference in 1968. Kurtz and her husband, who have eight children, moved to Oklahoma 12 years ago.
Also present was Jack Brikha, a native of Syria. He immigrated to the United States in 1986 and moved to Vandalia, Mich., two years ago. There in a Bible study he met a local Old Order Amish member, who invited Brikha to join him at the Nappanee conference.
Brikha is not part of the Amish or any other group and described himself simply as a "born-again Christian."
"I just came here to listen and be blessed," he said.